The Cove
New common areas for The Cove revealed
Needing an update from the original 20-year-old design, The Marbella reveals the new interior for the common areas of the assisted living accommodations in The Cove that will create more engaging spaces for all of The Marbella's residents. To encourage more social interaction, a wall will be removed to expand and open the kitchen that will now have a large island with seating for five. The new Great Room will have a fireplace feature built-in with a large TV and a variety of seating areas for different types of gatherings. The sun-filled Solarium will become an up-scale multipurpose event space with more adequate storage and acoustics.
The Cove will continue to provide exceptional full-time care with additional facilities to support a broader spectrum of services. The healthcare and wellness services will be enhanced with a brand-new physical therapy suite and a fully renovated spa treatment room, doctor's office & exam room. We are excited for this inspired transformation that will benefit both the residents and extraordinary staff thanks to the leadership of our Decorating Committee who saw a vision for what could be and settled for nothing less.
We are fully committed to the highest levels care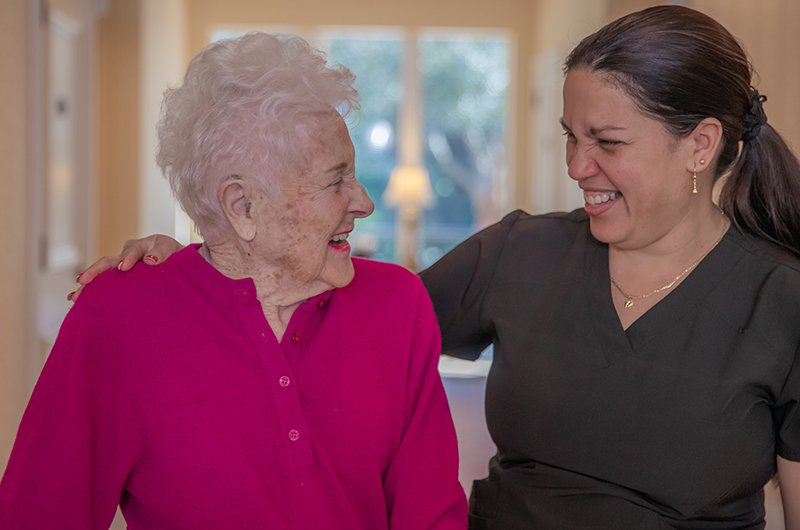 The Cove offers Naples' finest Assisted Living accommodations onsite at The Marbella at Pelican Bay. Under an Extended Congregate Care License, our expert staff provides comprehensive healthcare and services for our valued residents. Our team of professionals is fully committed to the highest levels of personal attention and care, as demonstrated by our industry-leading resident-to-nurse ratio.
Need a little time off from your caregiving responsibilities to relieve stress and prevent burnout? Caregiving is a demanding task, and it is easy to neglect your own health and well-being when you are involved with your loved one's needs. The Cove at the Marbella can provide you with temporary, intermittent, or substitute care to allow for relief from the daily responsibilities of caring for your loved one.
All care is provided by friendly, professional 24-hour nursing staff, with gourmet meals and luxurious accommodations. There are 14 suites, dining areas, a physical therapy room, a Physician's office, home health services, multiple social gatherings, and an elegant climate-controlled patio.
Marbella owners have flexibility on how they use The Cove facilities:
Own a condominium and participate fully in Marbella activities, but live in The Cove all or part of the day.
14 Assisted Living suites in The Cove on a temporary basis from one night to extended periods of time.
One spouse can live in The Cove while the other spouse lives conveniently close by in the Tower.
Owners can also receive nursing services by going to The Cove for:
Minor health care (like bandages, blood pressure monitoring, etc.), with a physician's order.
Physician care from the Medical Director, Dr. Obayedur R. Kahn, is available, however, you must be a patient of Dr. Khan
Other health amenities available to a Cove resident are dietary consultants, daily housekeeping services, and diagnostic x-ray service available through mobile services. Extensive medical care is also available in Marbella condominium units by third-party vendors.
---
Visitation Policy:
The purpose of this policy is to allow residents to have visitation when the facility has 2 or more Covid positive cases the following procedure will be followed.
Everyone visiting the resident must follow the procedures outlined.
PROCEDURE:
1. The facility staff will ensure that in-person visitation will be allowed in all the following circumstances unless the resident objects:
End-of-life situation
A resident who was living with family before being admitted to the facility and is struggling with the change in their environment and lack of in-person family support.
The resident is making one or more major medical decisions.
A resident is experiencing emotional distress or grieving the loss of a family member or friend who recently died.
A resident who requires cueing or encouragement to eat or drink which was previously provided by a family member or a caregiver.
A resident who used to talk and interact with others is seldom speaking.
The residents may designate a visitor who is a family member, friend, guardian, or other individual as an essential caregiver. The essential caregiver is allowed to have in-person visitation for at least 2 hours daily in addition to any other visitation authorized by the resident and or facility but does not have to provide necessary care.
2. Visitation hours are 9 am to 9 pm
3. Visitation must be scheduled with the facility by phone prior to the visitor's arrival.
4. Visitation in the resident's room is limited to 2 people maximum.
5. Social distancing will be monitored by the nursing staff when visitors are present.
6. Person visiting during an outbreak will be asked to
Check their temperature at the door while signing in
Visitation questionnaire answered.
Nurses on duty will review the infection control policy.
Visitors must wear a face mask and be free from COVID/Flu-like symptoms.
Any visitor that does not have a face mask, one will be provided to them by the facility.
The visitor will be encourage to sanitize their hands upon arrival and after their visit.
7. After visitation the area will be disinfected by staff.
8. Any third-party personal providing care to the resident must wear a mask (any person that does not have a mask, the facility will provide one to them), be screened at the door and must not have any COVID/FLU like symptoms prior to visiting the resident to provide care or therapies.
9. The administrator or designee may suspend in-person visitation of any visitor that does not follow the facilities policy and procedures on visitation
Jackie Gonzalez
Jackie is the RN Administrator at the Cove. Watch the video to hear Jackie talk about The Cove and all of the great things it offers.